4 hour Charters starting at $850.00 for up to 4 fishermen
Big Jim's Charters has been in business providing fishing, wildlife and Whale watching Charters/tours for over 40 years in the local waters of Juneau, Alaska. Come fish for all 5 species of Salmon (King, Coho, Sockeye, Chum and Pinks) or Pacific Halibut and over 50 different species of bottom fish. Wildlife and Whales include hundreds of Humpback Whales, Killer Whales, huge Sea Lions Colonies, and we have more Bald Eagles than the population of Juneau, 30,000 plus.
Our boats all have under cover seating for 6 guest with 360 degree viewing, heated cabins, private heads with flush type toilets, refrigerators and outside decks for 6 to fish or view the wildlife up close and personal.
When fishing enjoy all the latest top of the line gear and tackel up grated annually with separate Halibut and Salmon gear for six fishermen.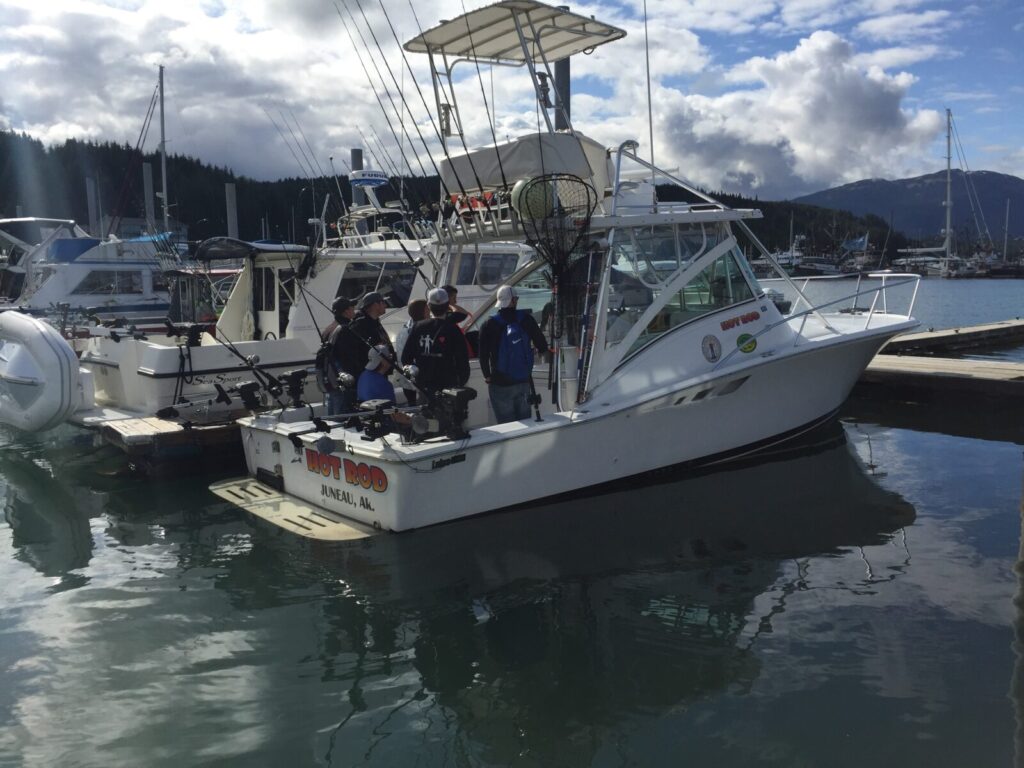 Fishing in South East Alaska is Abundant with 5 species of Salmon, Pacific Halibut, and about 300 types of rock fish.
King Salmon or Chinook are the largest Salmon and the most sought after growing over 50 pounds. Their season is May to June but are in Juneau all year. Residents and non residents have been required to release all Kings during the spawning time April, May, and have been open to catch in mid June around 6/15 for fish over 28 inches, about 12 pounds or larger. Juneau has a large Hatchery and release Kings into the wild system where there are areas of liberal limits, the areas marked on the charts allow residents and non residents up to 5 kings per day at any size after 6/15.
Coho or Silver Salmon start showing up in Juneau area around the 1st of July and are around until October with the high season on 7/15 to end of August. Residents and non residents are allowed 6 Silver per day with no restrictions. Our Coho has seen fish as large as 23 pounds and they fight hard, sometimes jumping out of the water. Fun to catch and great to eat.
Sockeye or Reds Salmon run starts in Mid July through August and most commonly caught with gill nets by the commercial fisherman. The Sockeye turn bright red on the outside when they spawn but are a blue color on their backs before they get into fresh water to spawn. They will hit trolling gear now and then but most the time they do not eat herring feeding on krill. Residents can obtain a permit to catch them with dip nets and non residents can fish for them with hooks but no snagging and limits are 6 per day.
Chum or Dog Salmon start running in June, are good eating when they are bright and can get up to 15 pounds. They are called Dog Salmon due to their growing canine looking teeth when they spawn. They are sought after for their salmon eggs which are great caviar, there meat is used in cat foods. They are also very good smoked when their not too bright or dark. Residents and non residents limit are 6 per day.
Pink Salmon or Humpies are the smallest of the five, start running in June to September. They are called Humpies because they get a large hump on their backs when they spawn. We might see one that is 10 pounds but their normal size is around 5 pounds. Limited to 6 per person. They normally are not smoked because they are not as big, good for Salmon Patty's.
Our halibut fishing season is from May to September with the fish moving into local waters in June, July and August. We have the required 6 fisherman permits to fish Halibut in Alaska. We use 2 speed reels with 80lb Spectra line and 200lb class rods. We carry jigging gear as well as bait gear. We normally fish 180 to 400 feet. The rules for Halibut limits change each year. Call us for the latest limits at 1-866-BIG-JIMS (866-244-5467).
Kings are Alaska's biggest and most prized Salmon. Kings can be caught year round, but the height of their season is late May through June.
Coho or Silvers, are known for their acrobatics and hard fights are a favorite among most Alaskans. They start running in July and peak in late August and early September.
Chum salmon, often called "dog" salmon are running June and July and are great smoked.
Pink Salmon or Humpies, as they are commonly called start arriving in June and are around until August. They are normally canned and sold in the markets.
FISHING CHARTER GALLERY